Lower Lawrenceville is great. Cantina, Pageboy, Piccolo Forno, the list goes on. Central Lawrenceville has its roots with Arsenel Lanes with a new editions of La Gourmandine and Industry Public House. But what about Upper Lawrenceville? Is there life above the cemetery in the 50's blocks?? Heck yeah! And guess what, more is on the way!
Upper Lawrenceville seems to be on the up and up. For those who haven't ventured into the 5000 blocks of Lawrecenville, you are missing out on some delicious foods and one of my favorite stores in the city. For those who know me, you know my affinity for mid-century furniture. As a result, I can spend hours
Who New
and be a content little camper. Their stuff is brilliant and the space (though jam packed) seems as though its curated in its layout. I got a gem of a chair there that to date has been the purchase of a lifetime (maybe a slight over-exaggeration but its really good).
If you are ready for a snack (as I always am)
Pusadee's Garden
is a delightful little thai restaurant, that arguable has the best outdoor seating in the city. Their patio makes you feel like you in a beautiful Anthropoligie-este space with beautiful vines and plantings that are just enough wild that make it seem effortless. This is all in a location that is directly adjacent to a truck depot (the beauty of Upper Lawrenceville). Remedy has also been pouring icy beers and yummy bar snacks for a few years and is always a good choice.
Now enter the new guard of Upper Lawrenceville.
Cure
opened on New Years Eve and since has been cranking out delightful and exciting charcuterie and mediterranean dishes in a lively BYOB setting. At the helm is chef Justin Severino, who previously run his open charcuterie shop Severinos Community Butcher in Santa Cruz before heading back to Pittsburgh, keeps his crew in the kitchen on their toes with his multiple cooking personas and winning smile.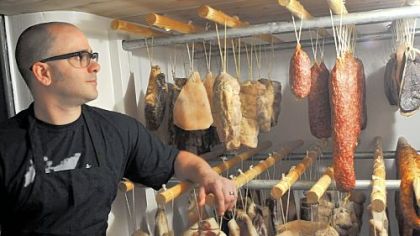 Joining Cure this summer include a slew of new rumored projects including a wine bar (by the former bar manager at Dinette), a brewery, a new bar (from Brooklyn transplant and current sous chef at Dinette, Bobby Stockard), and a specialty organic/locally sourced market,
Wild Purveyors
. All this Dinette love in Upper Lawrenceville maybe Sonja Finn (owner, Dinette) should open Dinette 2.0 up as well!!
So is there life beyond New Amsterdam in Lawrenceville? I would say that is a resounding yes! While it can seem like a hike compared to its more city-centric brethren, its worth it. So got have a drink at Cantina then shake it up and jump on the 91 to 52nd St. I will be a good little afternoon excursion for you!