Its seems like DC has come into its own. For years, DC has lived in the shadows of it's East Coast brotheren, serving as a institutional landmark only. Yet add an influx of 20-somethings that demand the same urban amendities and fun as NY or Chicago and seemingly DC has come into a market of its own. With Pittsburgh undergoing a similar (albeit smaller) revolution, its seems worthwhile to look at what Washington is doing right and where Pittsburgh could take a page.
Outside seating/Roofdecks!
Its seems like every bar and restaurant has amazing outside seating and roofdeck. And come happy hour you are hard pressed to find a seat at one. These 'required elements' have taken traditionally vacant stretches like 14th Street and transformed them into hubs of activity (like sprinting from Masa 14 below to Policy to catch their happy hour ending at eight).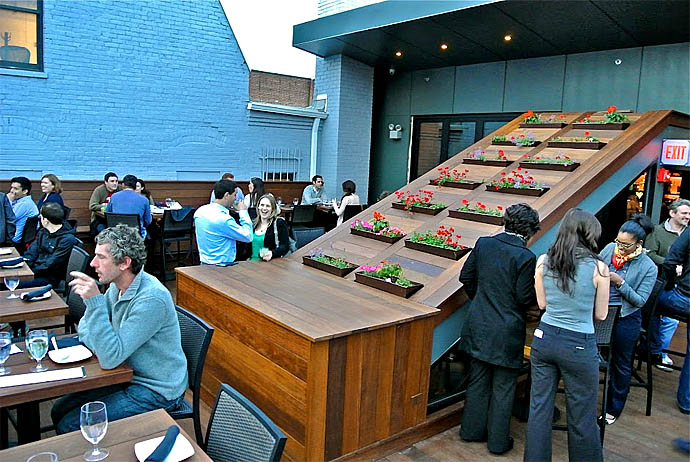 Arts/Community/Music Collectives!
BBQ Pool Parties, Cocktail openings at the Hirshhorn. DJ'ed happy hours, Supper clubs. Its groups like
Brightest Young Things
,
Anthology of Booty
, Meso Creso and others are making significant moves to make DC fun/wild, shaking up the muted nightlife stereotype that the city can't seem to shake. Rather than going to NY to have a wild evening, these groups have turned the table to set their own precedent of cool. And at the core, these groups claim its more about spreading the word (since the events have always been there), you just needed the right connections like Brightest Young Things addictive weekend outlook emailed every Thursday.
Transit!
Yeah the metro isn't great and it closes early but its still connects together much of the city in a dependable, timely fashion. The Circulator bus, conceived as a streamlined system for visitors, has taken off for all bus-users by offering $1 fares operating on an express basis to city hot spots (rapid bus lines, get on it Pittsburgh). Add to that the system of streetcars planned to begin operating in 2013 and DC will be a full fledged transit city (Sean Luther of APG might tackle the streetcar for us Pittsburgh!).
Diversity!
Walking down the street you can buy a pupusa or a jerk pattie while hearing a language you cannot begin to place. DC has and remains an international town. While Pittsburgh would face an impossible struggle to grow their international communities to the levels of DC, we can do our best to support the growth of immigration to Pittsburgh through our universities and global business community. Also, Pittsburgh, strike out and try something new! There is great international food offerings all over town just waiting for you to try them!
Gays!
DC has opened its arms as wide as they could be the gays and in return, they love DC back. And while you could chalk this up to additional diversity, the gay population brings something more to DC; risk. That area you'd never buy in, give it two years and the gays will have made it the hotspot. You don't have to look further than Dupont Circle in the 90's, Logan Circle in the 2000's, Shaw in the 2010's to see it in action. More over the gay community has and continues to be the primer of cool. Where did Whole Foods open up outside of the preppy/safe Georgetown? P Street in Logan. And find me someone who doesn't want to at least try the drag brunch at Perry's just to say you did.
Nellie's Sports Bar. A DC Institution
Institutional Investment!
DC's sustained and continued growth through the recession can be chalked up simply to institutional invested. New apartment buildings (and they are big, 500 units a piece big) seemed to have popped up on every corner in NW DC. And while there is significant wealth in DC, these projects were for the vast majority being funded by institutional investment funds, both domestic and foreign. While the recent sale of the US Steel Building and PPG have Pittsburgh more of the radar of these funds, Pittsburgh needs to push themselves further to be the choice over a Raleigh, Columbus, or other tier two cities when it comes to investment. Then maybe we can see more Cork Factory type projects popping up in other areas (Shadyside, Southside, Lville, etc).