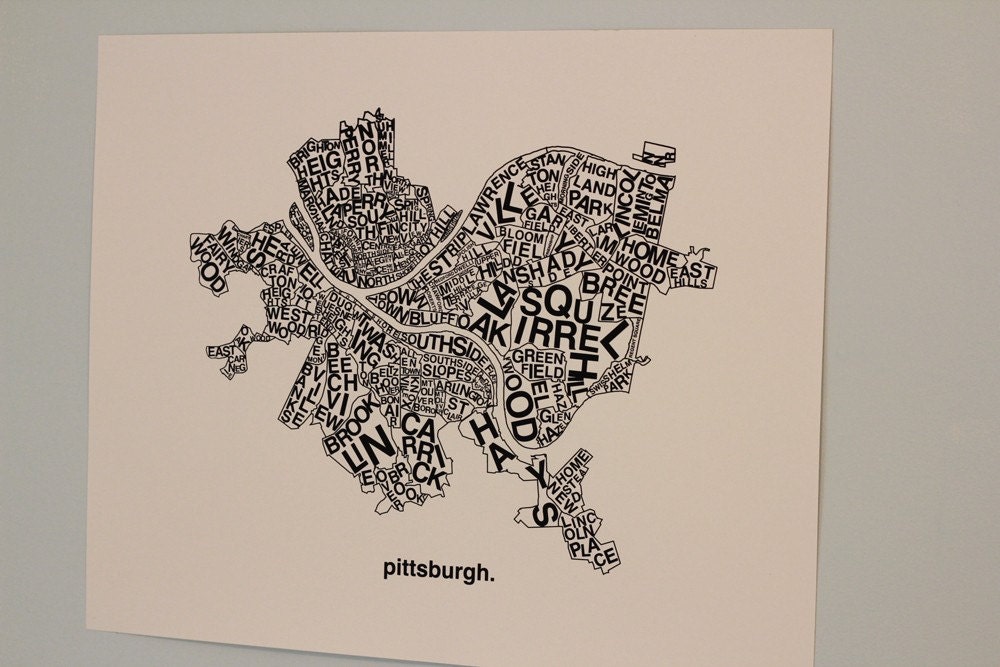 The Print Shop :: Phil Mollenkof :: Etsy
Urban Times recently put out an article titled
10 Ways to Improve Your City Through Public Spaces
. The article on interesting and I think a great read for those who aren't familiar with how significant planning and public spaces are in our cities. But #7 of the list caught my eye.
#7 The Power of Ten. The Power of 10 aims to develop a critical mass of public space elements that comprise a larger whole that is greater than the sum of its parts. 10 is not a strict number, but is intended to serve as a foundation. The idea is that if you can provide 10 things to do that attract people to one spot, you've started to create a great place. Building on that, aim for a neighbourhood to provide 10 of these great places. Further, a city with 10 of these neighbourhoods has now given residents access to quality public spaces within walking distance of their homes. It's the sort of comprehensive goal that municipal decision makers can strive for while giving citizens something tangible to create at the local level.
After reading it, I thought to myself to gauge how our developing neighborhoods are doing in regards to this particle concept in regards to high pact or nteresting places that actually drive people to these neighborhoods. Do you think ten is enough to create a great place? Here a couple of those neighborhoods in detail. Have all these become great places or do they still need to grow to hit that achievement? I think everyone will answer this question differently but it certainly makes you think about why and what makes you like a neighborhood.
Lawrenceville (Lower/Middle) (13)
: Espresso A Mano, Tamari, Round Corner Cantina, Pavement, Arsenal Lanes, Piccolo Forno, Industry Public House, New Amsterdam, Tender (coming soon), Fe Gallery, Pageboy, Divertido, Franktuary (coming soon)
Upper Lawrenceville(4):
Cure, Pusadee's Garden, Allegheny Wine Mixer, Wild Purveyors
Highland Park (6):
Joseph Tambellini's, Smiling Banana Leaf, Park Brugge, T'aza Dora, e2, Food Glorious Food
East Liberty (12):
Whole Foods, Target, Spoon, BRGR, Dinette, Union Pig + Chicken, Starbucks, The Shop in East Liberty, Abay, Shadow Lounge, Harvard + Highland (coming soon), Home Depot
Strip District (15) :
Penn Ave Fish, Bar Marco, Marty's Market, La Prima, 21st St Coffee, Kaya, Roxanne's, Wholeys, Penn Mac, Wigle Whiskey, Lotus Market, Eleven, PGH Public Market, Enricos Biscotti, PGH Popcorn